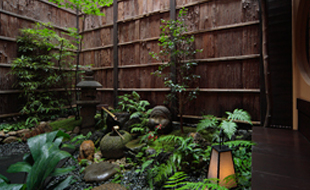 Courtyard
A courtyard of about 3 metre square is located at the back of the building. The courtyard was built to allow natural daylight to enter the house, as well as to keep the house well ventilated. A small yet tasteful atmosphere is created by combining nature and a few decorations such as lanterns and garden stones.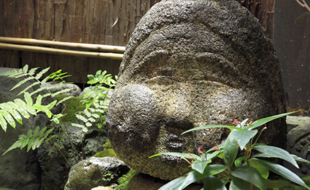 Ms. Fuku
In the courtyard you can find a stone statue symbolizing happiness with a gentle smile on its face. Since it was discovered in the ground during the construction of Kyoto ICHINODEN Main Store, it was nicknamed "Ms. Fuku" (Ms. Happiness). Ms. Fuku has been with us ever since the beginning, witnessing the changes of our history.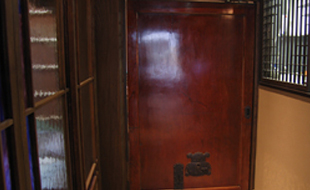 Kurato (door of warehouse)
Warehouse built with thick cement protects grain, commodities, and property from fire and rat. The door of the warehouse is called "Kurato". The doors are mostly made of heavy and thick wood but the designs vary from household to household. You can see the skillful craftsmanship of Kyoto's machiya craftsmen.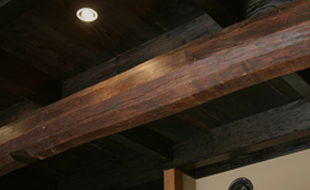 Beam
The beams are used to support the roof, as well as to fix each of the pillars. In case of earthquakes, wooden beams shake along flexibly which allows shock to be absorbed less harmfully. The beams of machiya in Kyoto are generally sophisticated and delicate, just like the temperament of the Kyoto people.